20mm Kitchen Benchtop Edge Styles
While there are a lot of edge profiles that can be created with marble, granite and quartz, these edge styles are some of the more popular that we see here at Aristocratic Stone. Take a look below for the benefits of each style and their thicknesses.
For classic benchtop styles like French Provincial, a Lambs Tongue would be better suited, while for a more modern kitchen, 20mm Pencil Round or a mitred edge would work well in your space. 
40mm Kitchen Benchtop Edge Styles w/joins
Mitred and laminated joins are extremely popular with 40mm benchtop edging, but which one is best for your project?
The full bullnose example below is an example of a laminated edge, where two pieces of stone are placed on top of each other with a join in the middle. While very strong, this type of join is more noticeable and may affect the aesthetic appeal of your space.
Mitred joins are more popular here at Aristocratic and they involved cutting the two pieces of stone (usually) on a 45 degree angle, which are joined together at a 90d angle (See mitred pencil round and Mitred Apron).
This join is more visually appealing because it's hidden more than a layered join, however, this type of edge is slightly more susceptible to chipping than a layered edge, but usually isn't a problem for most. 
Visit Our Dandenong South Showroom
Sit down with our senior designer Andrew, enjoy a coffee and take a look at over 120 different colour samples from the best brands in granite, quartz, marble. We can tailor your project to your exact specifications, guiding you through the entire process from start to finish at a great price and fast turn around times.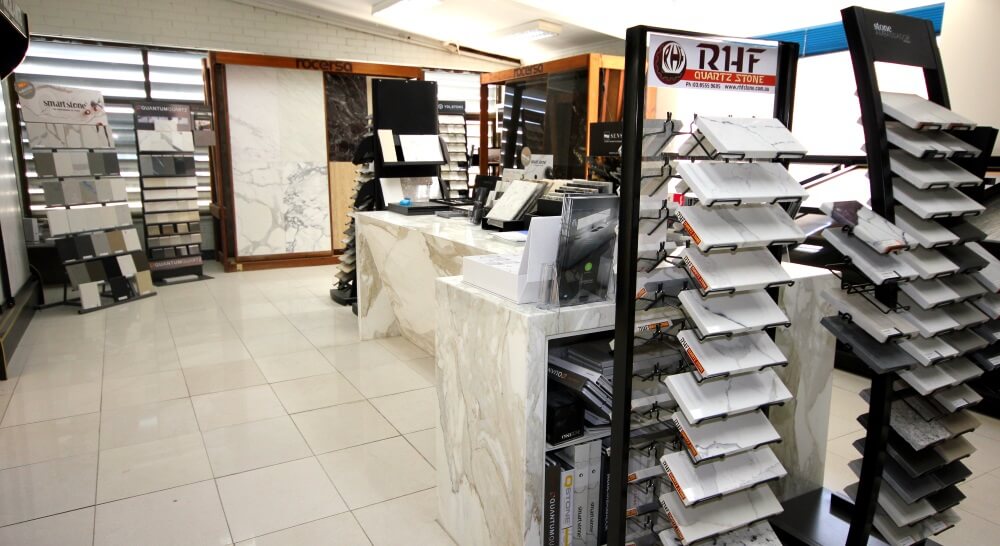 Contact Aristocratic Stone
3 Mills Rd, Dandenong, 3175
T:  (03) 9701 7339
M: 0438 393 300
F:  (03) 9791 3507 For 18 years, Aristocratic Stone has been the chosen stonemason team for some of Melbourne best designers, builders, architects.
Monday:               8:30am - 4:00pm
Tuesday:               8:30am - 4:00pm
Wednesday:        8:30am - 4:00pm
Thursday:             8:30am - 4:00pm
Friday:                   8:30am - 4:00pm
Saturday:               By Appointment