WHICH KITCHEN BENCHTOP MATERIAL IS RIGHT FOR YOU?
We Compared the Five Most Popular Benchtop Types – And Here Are the Results
CONTACT US
Which Benchtop Dream Suits You Best?
No matter what the type of look you are after, there is a style or pattern to suit. With the development in production and the marvels of stone engineering, there is something for everyone.. even you!
Whether it's an industrial, rustic, modern, or contemporary look that you're going for, there'll be a benchtop to suit. While we often consider what's going to look good, there are other important factors such as budget and ease-of-cleaning that shouldn't be overlooked.
Are you looking for something that's easy to maintain, or simply something that looks good? Are you after something more affordable to stand the tests of everyday life or something that becomes to a focal and talking point of your home, that requires a little bit more love and upkeep? We compared five of the most popular styles for you below.
Five Types – Five Benefits. Which Suits You Best?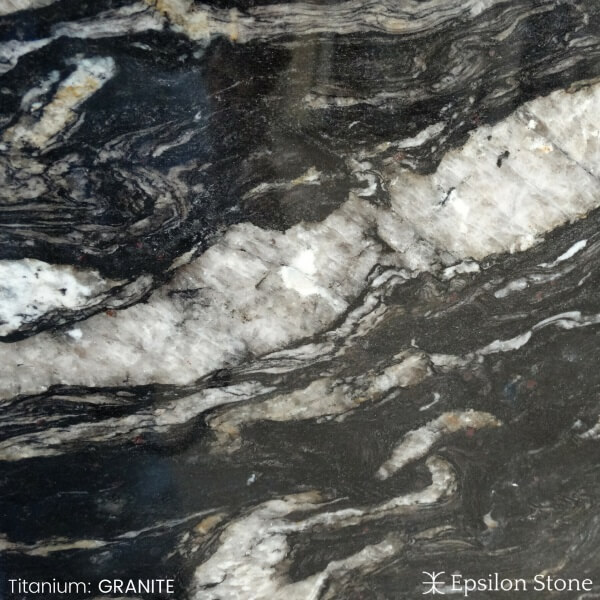 Titanium Granite – Image Courtesy of Epsilon Stone
Sealed Granite – Exceptionally Hard & Durable
THE PROS OF GRANITE:
If you want your kitchen to have all the bells and whistles and your budget allows it, a natural stone like granite is a great option for your benchtop. It's extremely durable and will be a life-long feature in your home.  For those who are looking for something a little more rugged and durable for your kitchen benchtop.
THE CONS OF GRANITE: 
Granite performed excellently in all tests except for the abrasion test where it scored very well. Scratch marks were only visible under light. It's a porous material so it'll need to be sealed to give it stain resistance and you'll need to continue to reseal it regularly.
Laminate – For The Budget Conscious
For those on a tighter budget, wanting something simple to install and easy to maintain a laminate benchtop is a worth option.. Laminate (layers of paper over a chipboard, ply or MDF board) has been around for a long time and probably something 90% of us have seen in our homes before
These days you can get a laminate benchtop to suit any style you're after – woodgrains, marble and granite looks are all achievable with laminate.
Obviously, in comparison to stone based materials, Laminate is much more susceptible to damage, heat and abrasion and once damaged can allowed water and liquids to seep in and your bench to swell.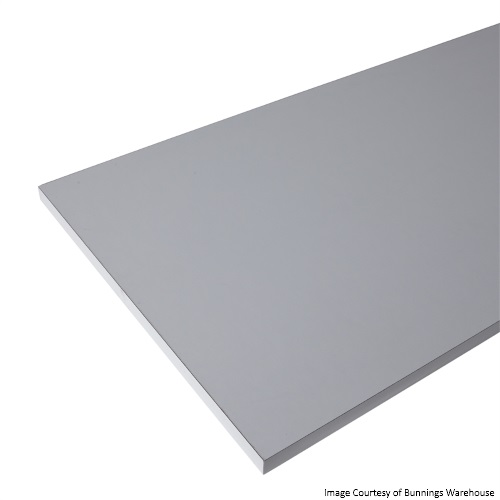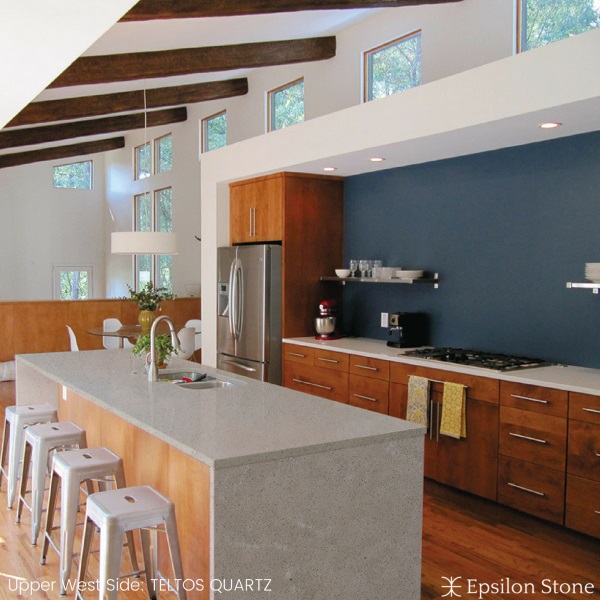 Upper West Side Quartz – Teltos, By Epsilon Stone
Engineered Quartz – A Kitchen's Best Friend?
If you're after practicality and something simple and easy to clean, quartz is the right choice for you. Engineered Quartz is Australia's most popular kitchen benchtop materials. It comes in an array of colours, styles, price points and designs and isn't as expensive as natural stone. It's also non-porous so you won't need to seal it.
The fact that it comes out of the box (so to speak) stain, acid and heat-resistant make it a fantastic option for those who treat their kitchen as the centrepieces of the home. A place to socialise, cook and create without the need to worry about of constant upkeep and maintenance.
However, like most stone types, it isn't resistant to chipping and the higher end styles can be quite costly to purchase. Althought, we think this is a small price to pay for what engineered quartz has to offer.
Porcelain – A Relative Newcomer To the Market
Porcelain is a relatively new option to consider. It's priced per sheet and can cost anywhere from $750 to over $2000. In the last few years alone, however, the price has dropped and will most likely continue to drop as technology advances and manufacturing costs decrease.
It's lightweight, you won't need to seal it and it's available in large slab sizes. It's versatile too, you can use porcelain sheets for furniture, flooring and in outdoor areas and thanks to patterns being printed on the surface of the material, is available in a wide range of patterns and styles.
However, the thickness, brittle nature and difficulty in fabricating make porcelain a material many stonemasons won't handle due to the increased risk of damage, cutting transporting and installing it. Although, it is a fantastic choice if done right.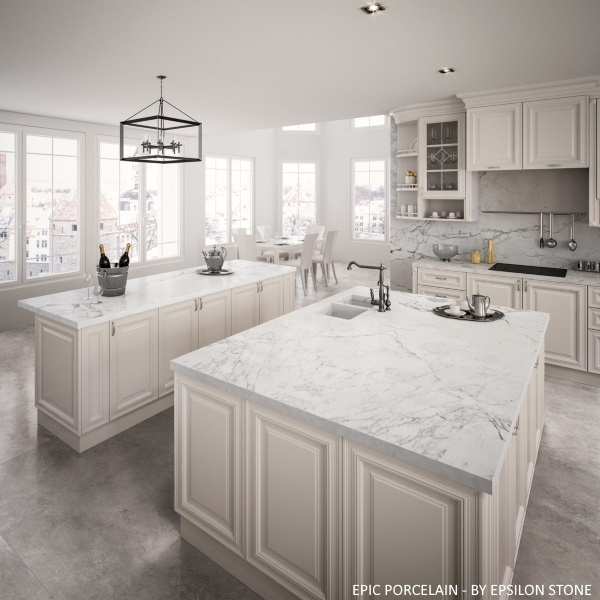 Porcelain – Costly, but Beautiful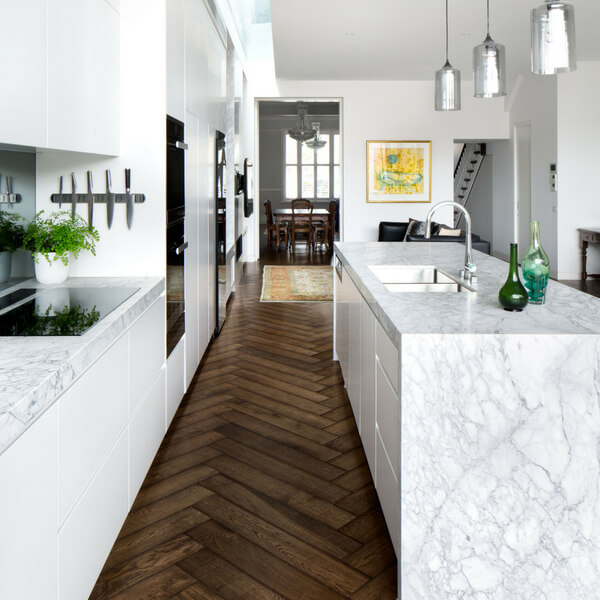 Natural Marble – Kitchen Install by Aristocratic Stone
Natural Marble – Rugged, Raw and Beautiful
Marble is a natural stone like granite, and suitable for a top-of-the-range kitchen if price is no concern. Keep in mind it's delicate and needs to be cared for correctly. Marble is more porous than granite, so sealing and ongoing maintenance is a must to keep its surface as beautiful as the day it was originally installed.
As with all natural things from the Earth, the styles and colours of natural marble are very hard to 100% replicate and each slabs comes unique to the next, but can be perfectly bookmatched to create a stunning look.
Marble also requires much more upkeep than it's engineered quartz or granite counterparts. A small price to pay in our opinion for something so incredible to look at for many, many years to come.
Results Courtesy of Choice.com.au
| Benchtop type | Stain test | Impact test | Abrasion test | Cutting resistance test | Heat damage test  |
| --- | --- | --- | --- | --- | --- |
| Bamboo sealed with oil | Good | Good | Borderline | Good | Very poor  |
| Bamboo sealed with polyurethane | Excellent | OK | Borderline | Good | Very poor  |
| Butcher block Tasmanian Oak sealed with oil | Good | Good | Borderline | Good | Very poor  |
| Butcher block Tasmanian Oak sealed with polyurethane | Excellent  | OK  | Borderline  | Good  | Very poor  |
| Concrete (polished) | Very good  | Borderline  | Poor  | Very good  | Excellent  |
| Laminate Formica  | Very good  | OK  | Poor  | Very good  | Poor  |
| Laminate Laminex  | Very good  | OK  | Poor  | Very good  | Excellent  |
| Marble (A) - Test Was Unsealed | Poor  | Poor  | Borderline  | Very good  | Good  |
| Porcelain  | Excellent  | Poor  | Very good  | Excellent  | Excellent  |
| Quartz Caesarstone  | Very good | Borderline  | Good  | Excellent  | Very good  |
| Quartz Quantum Quartz  | Very good  | Borderline  | Good  | Excellent  | Very good  |
| Granite (sealed) | Excellent | Excellent  | Very good  | Excellent  | Excellent  |
| Solid surfacing Corian  | Very good  | Excellent  | Borderline  | Very good  | Good  |
| Stainless steel  | Good  | OK  | Borderline  | Very good  | Very good  |
| Tile Ceramic  | Excellent  | Poor  | Very good  | Excellent  | Excellent  |
| Ultra compact Dekton  | Excellent | Very poor  | Very good  | Excellent  | Excellent  |