It Starts With Raw Quartz Materials
Engineered quartz (Not to be mistaken for Quartzite) is a man-made product created mostly from natural materials. Usual benchtop compositions will see a quartz percentage of around 90-94% ground quartz, and around 6-10% resins, binders and pigments. These resins, pigments and bonding agents are added as part of the end result to create a surface that is durable and nonporous.
Engineered stone is a relatively new product, it was first developed and patented by Italian manufacturer, Breton Technology in the late 1980's. These days, engineered quartz is the most popular kitchen benchtop product used throughout Australia for obvious reasons.
Main Advantages of Engineered Quartz
The main advantages of engineered quartz over natural stone is that engineered quartz is stain, scratch and heat resistant. It doesn't require any sealing, is incredibly hygienic and virtually non-porous. Although, the beauty of natural stone remains very appealing and is really a choice of preference.
The strength of quartz, even in a manufactured form, makes it naturally resistant to abrasion, scratches, dents, and even acids without the need for sealants. And the environmental impact of manufactured quartz is low: Quartz is an abundant material and the finished product is nontoxic and non-allergenic and will last a lifetime, reducing the need for replacement.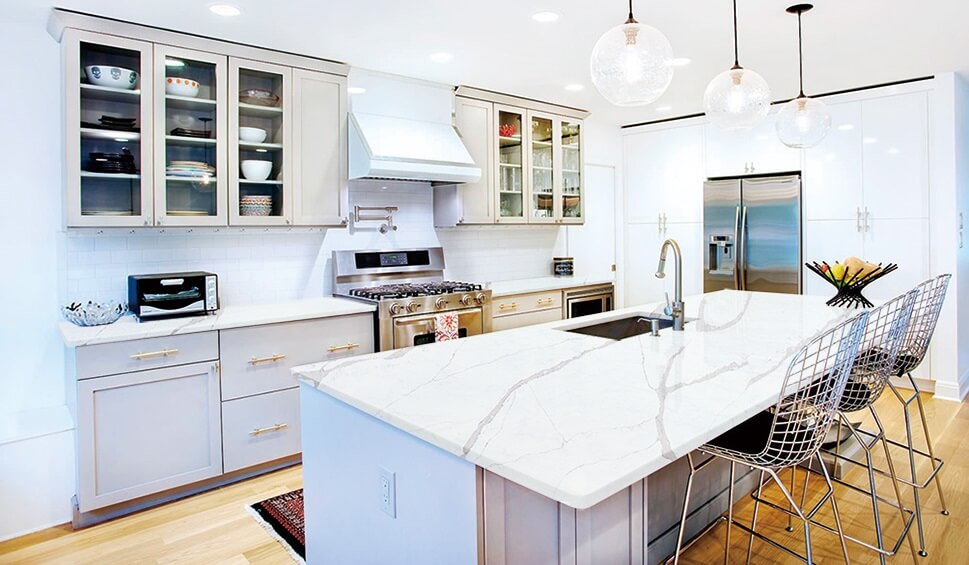 Calacatta Borghini – By Epsilon Stone
The Range of Colours and Styles Now Available
With new advancements in technology and many more players now entering the game, Australia tastes have changed to include more natural looking style quartz products such as calacatta, carrara, statuario and other veined lines, making the ability to obtain natural looking materials for your kitchen benchtop easier and more affordable than ever before.
And luckily for us as a consumer, the styles of quartz countertops and the available ranges are continuously expanding, brought on by competition between many different brands now in the Australia market. Note that the color and texture of engineered quartz are more consistent than natural stone — to some this uniformity is an appealing feature and to others, it's a drawback who are looking for something more raw and authentic.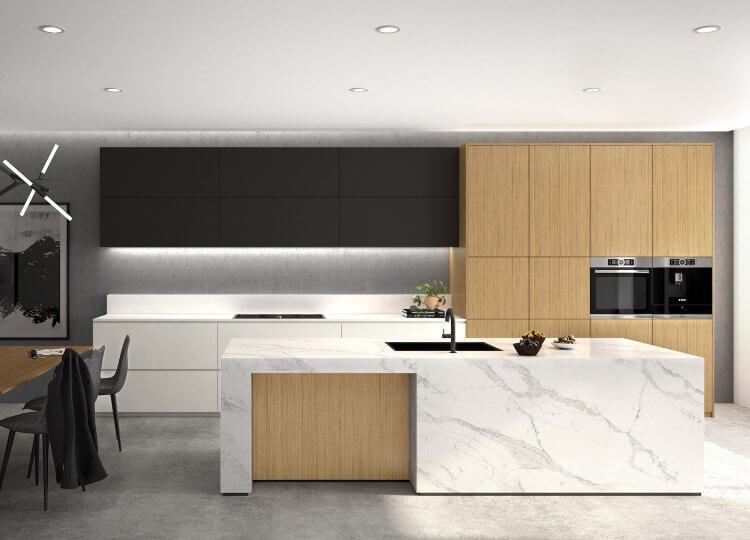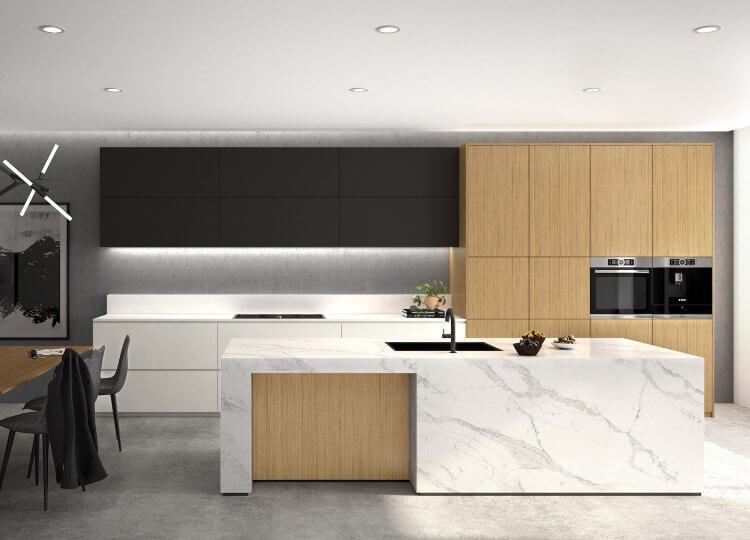 Unique Calacatta By Essastone
A Wide Choice Of Patterns and Finishes
Another benefit of engineered quartz over its natural counterpart is the surface finish and style.
The surface of manufactured quartz depends on how the quartz is ground: Coarsely ground stone produces a flecked appearance, while finely ground has a smooth look. Manufacturers have also created colours and patterns that mimic natural stone, such as marble and granite, and have even created cement lookalikes (an appealing option, since cement itself, is prone to cracking, chipping, and staining).
The choices don't stop there. You can now also find matte, honed and polished surfaces, which offer a slightly different look in colour and style, depending on the style of finish your area requires.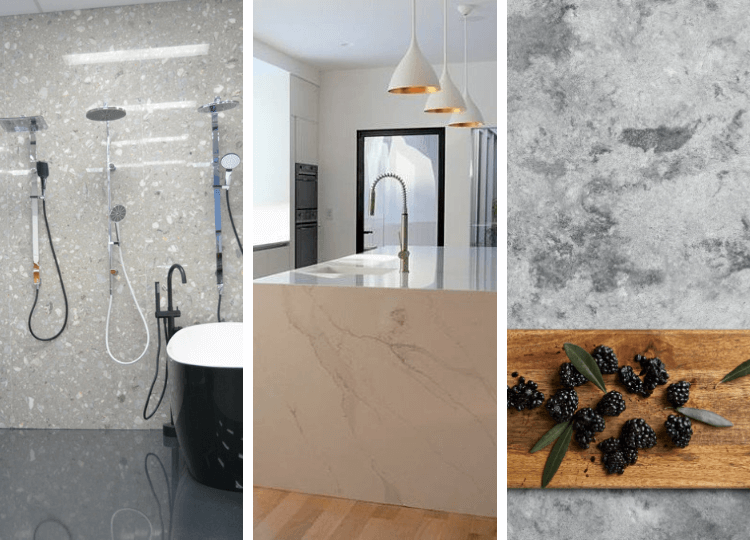 Terrazzo | Calacatta | Concrete Styles
Terrazzo | Calacatta | Concrete Styles
It's Range of Applications – Wide, But No Limitless
Engineered quartz is hard, dense, nonporous, nonabrasive, and nonreactive to acids — attributes that make it perfect for use as countertops, backsplashes, walls, and even floors.
Keep in mind that, like natural stone, it's heavy. And it's not recommended for use outside because the resins aren't UV stable (warranties are voided for outdoor applications).
In terms of heat resistance, the material is reportedly not affected by temperatures lower than 300 degrees Fahrenheit. That said, it shouldn't be used as flooring over radiant heat because of possible damage from long-term exposure to heat.
That covers all of you need to know about engineered quartz and it's easy to see why it's become the most popular benchtop material in Australian households, isn't it?
Did you know that we have over 220+ colours available for you to browse in our massive display room at 4 Lanyon Street, Dandenong South? Come on in and take a look or give the team a call today to discuss the perfect style for your next bench top, bathroom or stone project.
Email: info@aristocraticstone.com
Looking for a No Obligation Free Quote?
We're not in the business of harassing you after you submit your free quote request and if you're looking for a local stonemason who can provide the job on time and on budget, contact us today!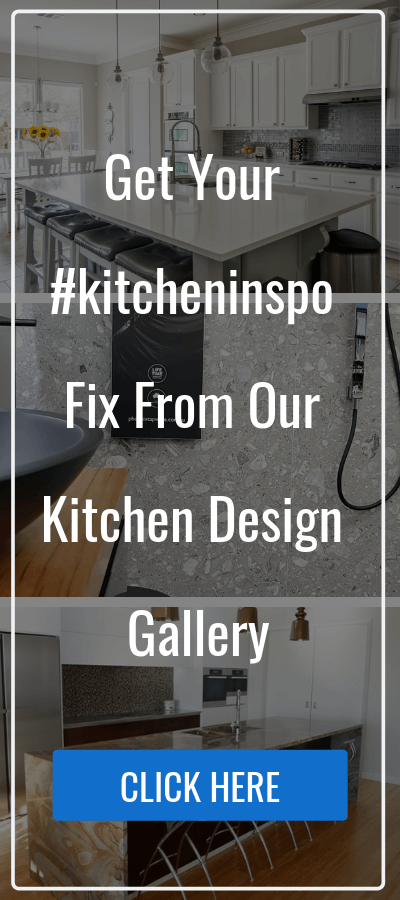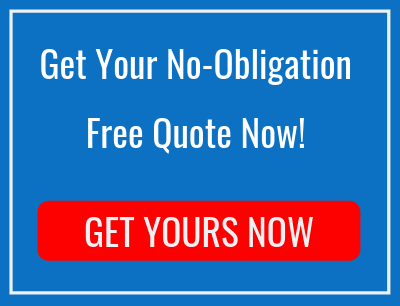 For 18 years, Aristocratic Stone has been the chosen stonemason team for some of Melbourne best designers, builders, architects.
Monday:                9am - 4:30pm
Tuesday:                9am - 4:30pm
Wednesday:         9am - 4:30pm
Thursday:              9am - 4:30pm
Friday:                    9am - 4:30pm
Saturday:               By Appointment