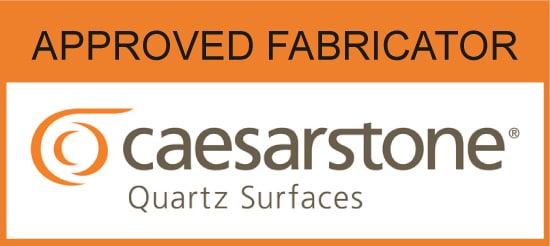 Aristocratic Stone Is Proud to be a Caesarstone Approved Professional Fabricator
Founded in 1987 near the ancient Roman city of Caesarea, Caesarstone® manufactures high-quality, premium quartz surfaces. Applications in residential and commercial interiors include kitchen bench tops, splashbacks, bathroom vanities, wall panelling, furniture and more.
A global leader and pioneer in its field, Caesarstone® prides itself on its ongoing commitment to research & development, innovation and the highest quality standards.
Caesarstone® surfaces meet exacting standards of excellence from the initial procurement of raw materials to the final quality control check. Highly skilled and trained staff members ensure the quality of a product that is unrivaled in the industry today. The manufacturing process begins with a rigorous inspection of all incoming raw materials. These are blended at a ratio of up to 93% natural quartz aggregates with pigments and polymer resins. Caesarstone® Quartz Surfaces are manufactured through a highly automated, yet strictly monitored process.
HOW TO CLEAN YOUR CAESARSTONE BENCHTOP
Caesarstone® surfaces require very little maintenance to keep them looking like new. For everyday, routine cleaning of Caesarstone® we recommend wiping the surface with warm soapy water (a mild detergent) and a clean damp cloth, or use our convenient Caesarstone® Cleaning Wipes or Caesarstone® Spray Cleaner. Do not use the cloth you use to wash the dishes, as it may transfer oils and other contaminants to the Caesarstone® surface.
As Caesarstone® is virtually non-porous, it will keep its lustrous gloss and ultra smooth surface which never needs polishing or sealing. Never attempt to polish the surface and avoid prolonged rubbing in one spot when cleaning.
Caesarstone Cleaning Products Can be Purchased Direct From Aristocratic Stone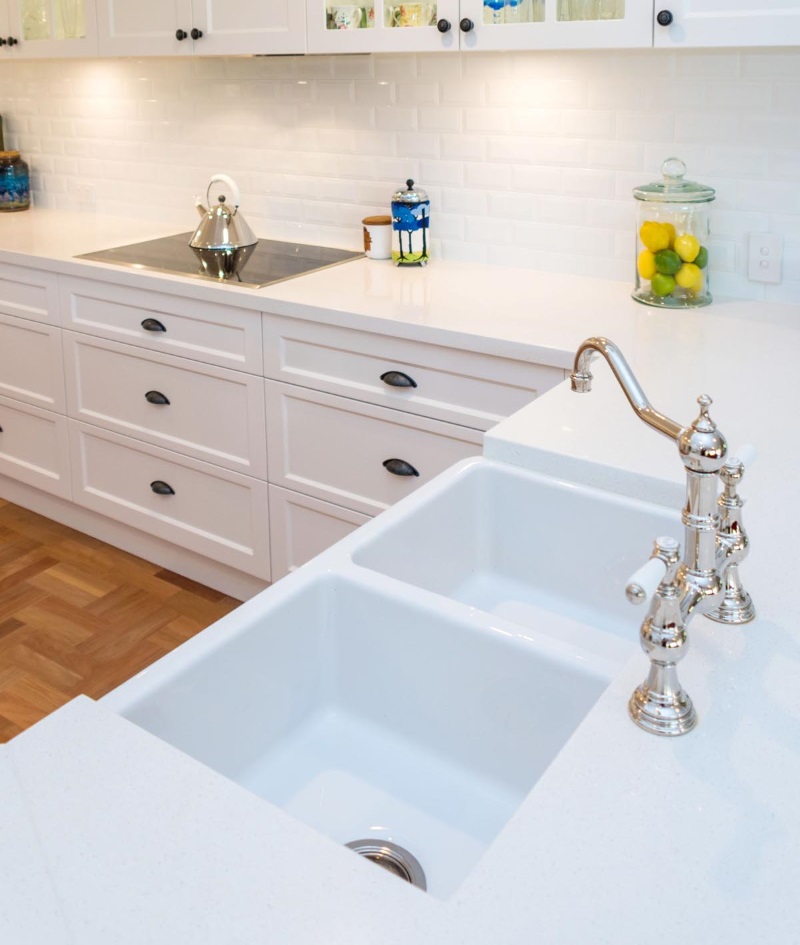 Image for reference and not that of Aristocratic Stone
KITCHEN BENCHTOPS, BATHROOMS AND MORE
The Caesarstone® brand has a wide portfolio of product lines suitable for a multitude of residential and commercial interior applications.
Caesarstone® products can be used throughout the home for kitchens, bathrooms and laundry's and can also be used in custom made furniture pieces offering elegance, style and continuity throughout the home.
The unique properties of Caesarstone® products mean they are equally suited to dry and wet areas. The combined qualities of strength, water and mildew resistance and low maintenance means Caesarstone® products are the ideal choice for today's modern homes.
Caesarstone® products can be used for a wide variety of applications in residential and commercial interiors.
Warranty, Colour & Care Guides (Click To Download)
Contact Aristocratic Stone
3 Mills Rd, Dandenong, 3175
T:  (03) 9701 7339
M: 0438 393 300
F:  (03) 9791 3507 For 18 years, Aristocratic Stone has been the chosen stonemason team for some of Melbourne best designers, builders, architects.
Monday:               8:30am - 4:00pm
Tuesday:               8:30am - 4:00pm
Wednesday:        8:30am - 4:00pm
Thursday:             8:30am - 4:00pm
Friday:                   8:30am - 4:00pm
Saturday:               By Appointment