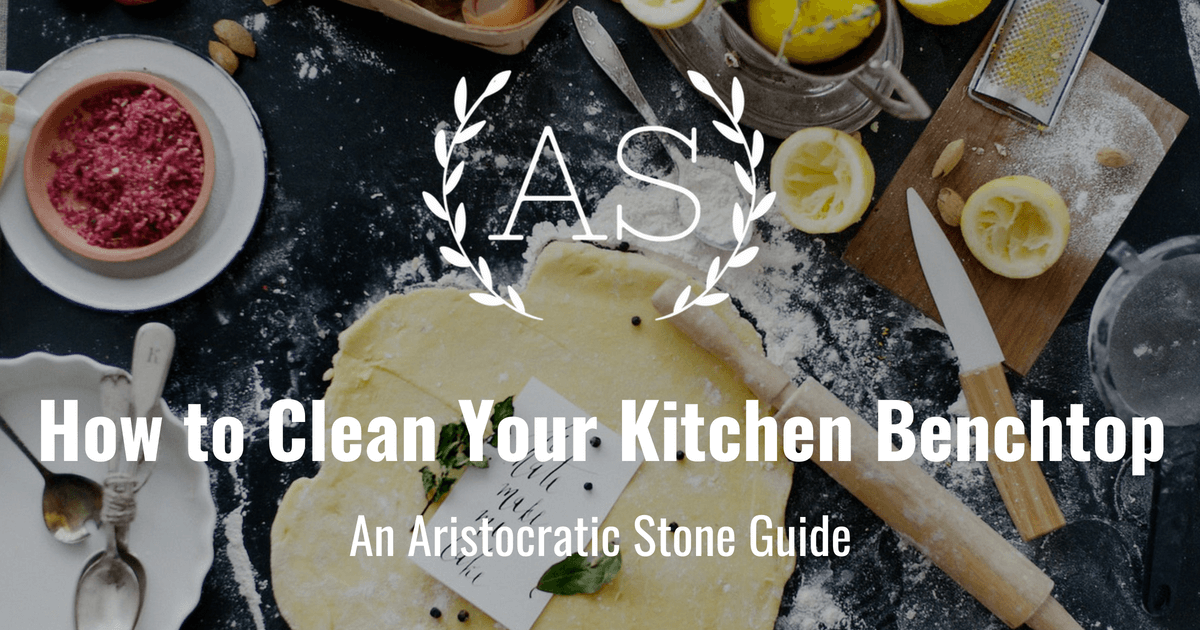 The Right Way to Clean Your Quartz Kitchen Benchtop – Stonemasons Tips
Engineered stone is known for its resilience to heat, scratching, marks and stains which is what makes it to incredibly popular and a staple of every new home build in Australia.
Thankfully, with our busy day to day lives, it's also relatively low-maintenance, but if you're looking to give your engineered benchtop a little bit of TCL to help it last that bit longer, here are some tips to help.
For Routine Care and Maintenance of your Kitchen Benchtop
For routine cleaning, use a non-bleach, non-abrasive cleaner together with water and a damp cloth or sponge.
For Those More Difficult Spills & Stains
Although non-porous spills such as red wine, food colourings and some vegetables should be attended to straight away, if stains are stubborn to remove, it is suggested to use a cream cleanser, along with warm water and a soft cloth or sponge. 
If a product like this isn't available on hand, warm soapy water can be used followed by a glass and surface cleaner.
Preventing Heat Damage and Marks
Protective Trivets, heat pads or chopping board must be used underneath hot pots, skillets or saucepans when being removed directly from the heat source. Sudden or prolonged exposure to extreme temperature changes can cause thermal shock cracks as well as unsightly marks.
If these marks do occur by accident, again, use your cream cleanser product and/or non-bleach containing product to remove any marks. Unfortunately, for most manufacturers, if these marks or cracks occur due to heat exposure, they are not covered under warranty.
Things to Avoid To Keep Your Benchtop Like New
Avoid exposure to oven cleaners, paint stripper or removers, as well as nail polish remover.
If your kitchen benchtop is exposed, rinse immediately with warm water to minimise the effect and follow the routine cleaner guides as stated above.
Abrasive cleaners such as Jif, Gumption or Ajax must not be used. Also avoid chopping directly of the surface of your quartz benchtop to minimize damage your knives, as well as adding any marks to the benchtop surface. 
To Summarise How to Keep Your Benchtop Clean, Fresh and New
Act fast to ensure they don't leave a stain
Soak up the spill and wipe away with paper towel or sponge.
Wipe clean with a warm soapy cloth or use specialists products such as pray cleaner, cream cleanser or ready-to-use surface wipes.
Buff with a clean, dry cloth
Things to be Cautious of In the Kitchen
Tumeric
Red wine
Pumpkin
Cordial
Pasta sauce
Tandoori paste
Permanent markers
Things That Can Damage Your Kitchen Benchtop Surface
Bleach
Nail polish remover
Oil-based soap bars and spray cleaners
Scourers or abrasive cleaners
Hot pots and roasting trays
For More Information, please refer to your stone manufacturer cleaning and care guides and refer to the below videos from Caesarstone and Quantum Quartz.
4 Lanyon Street, Dandenong South, 3175
T:  (03) 9701 7339
M: 0438 393 300
F:  (03) 9791 3507 For 18 years, Aristocratic Stone has been the chosen stonemason team for some of Melbourne best designers, builders, architects.
Monday:                9am - 4:30pm
Tuesday:                9am - 4:30pm
Wednesday:         9am - 4:30pm
Thursday:              9am - 4:30pm
Friday:                    9am - 4:30pm
Saturday:               By Appointment